pano
What Does "Bespoke" Mean?
As a connoisseur of men's fashion, you might have wondered yourself: What is the definition of bespoke design? If you're looking to understand the ins and outs of specialized fashion and suiting, we are ready to bring you the bespoke definition to help clarify this niche and elite world in fashion.
adjective (of clothes) made to individual order; custom-made
adjective making or selling such clothes
Bespoke Defined for Tailoring
Originally a term specifically for men's tailoring, the term "bespoke," has evolved from a verb meaning, "to speak for" to a more modern use as an adjective to describe, "anything specifically made for one person or request." The adjective originally referred to tailor-made suits and shoes, and it is still the foremost word we use to describe suits, shirts, ties, and shoes that are made specifically for one person. At Peter Panos Bespoke Tailor, we offer bespoke suits that are classic, contemporary and fashion forward. Read on to find out more about the bespoke definition and what you can expect from your first customized bespoke suit.
What Is Bespoke At Peter Panos?
Comparative Pricing To Retail Outlets
Classic
Contemporary
Fashion Forward
Occasions To Bespoke
Personal Preference or Style
What is the Bespoke Process?
Since bespoke items are custom-made to the customers specifications, the bespoke process is very different from purchasing retail or off the rack. Much like couture designs in women's fashion, bespoke suits are custom-made for each person. Bespoke tailoring is the traditional method of making clothes based on individual patterns and your specific measurements as a customer. A pattern is a structural plan for different parts of a garment, and a bespoke pattern is made with your particular body measurements. A tailor will measure you at certain points so they can find the exact position for armholes, leg openings, the width of your back and wingspan and the length of your limbs. They can even get as specific as the degree of slope of the shoulders and the amount of crease needed at the knees. A tailor will also check that the front, back and side are balanced. Once the suit is created, the tailor will often make micro and mini adjustments to ensure the fit is perfect, whether that means letting out a hem or shortening a sleeve for each customer.
What Value Can a Master Tailor Bring to You?
Master tailors have the experience and knowledge to recommend and prescribe everything from the correct fit, color, style, and fabric type for any situation. There are many decisions one must make when having a bespoke garment made. Years of experience and training gives the master tailor the knowledge and insight needed to take the stress out of these decisions and will help you in bringing your envisioned perfect garment to fruition.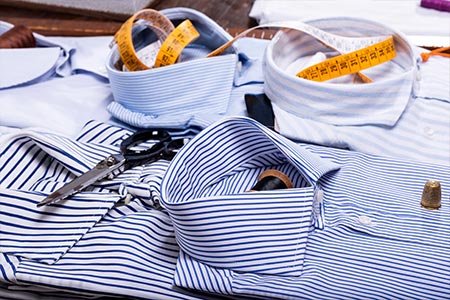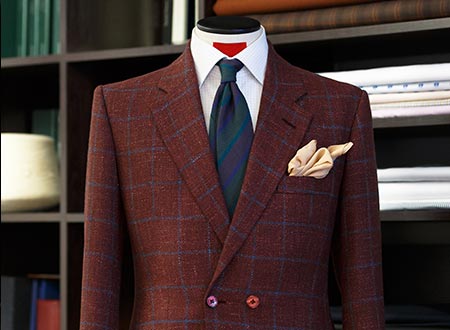 What are Tailoring Methods?
Bespoke tailoring is tailoring in which an experienced tailor creates a paper pattern for each garment. This means they are creating a piece of clothing (in this case, a pantsuit) completely from scratch. Bespoke tailoring combines the core principles of basic tailoring and elevates it to a master level. Tailoring methods themselves, can be defined as the process of measuring, sewing, and fitting a suit or other piece of clothing.
True bespoke tailoring is considered the pinnacle of menswear. To be truly "made to order" clothing, it must be made with the highest quality in terms of materials, construction, and craftsmanship. The garment must be adjusted many times and must always be perfectly sewn together and altered to the body. Tailored garments are shaped using a press and sometimes other internal supports provided by layering, lining, padding and reinforced stitching. The lining or interlining is an additional layer used to support the main parts, especially those that the client wants to stand upright, like the shoulders of a jacket. It is cut to size and sewn along the edges to the back of the main fabric, treated as one of the remaining structures. Using good quality batting and pressing tools can be very effective in creating a tremendous bespoke tailoring experience.
Utilizing these and other specifications, the tailor (or team of tailors) will continuously go back between fittings and adjustments on the garment. After several fittings and agreeing that the fit has finally reached perfection, the tailor can create your pattern, which can be used time and time again during construction as a building plan for each of the various sections of the garment. It's like a blueprint for the body.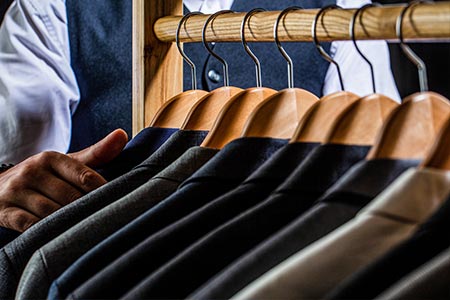 What are Bespoke Measurements?
Fittings with your professional tailor will involve more than 40 measurements by a master stylist or tailor to ensure the perfect fit every time. Your expert bespoke tailor will measure some of the following: the circumference of your need, the width of shoulders, chest and waist, three different widths of your hips (your upper hip, middle hip and lower hip), the circumference of your quads and ankles, the length of your upper arm, the length of your lower arm, the length of your pants from the outer hip to the ankle and the length of your inseam (inner thigh to ankle). After the first round of measurements and tailoring, your tailor might also measure things that are more specific, especially if you have an athletic build. These might include: the width of your upper chest where the sleeves meet the trunk of the suit jacket and the exact point at which you would button the jacket or at the pants waistline. Depending on the client and how perfectly they want their suit to fit, the tailor can get measurements that are incredibly specific and work for your lifestyle and body. For instance, if you wear large watches, they might create more space in the wrist or cuff of the jacket.
Getting to the Bottom of the Bespoke Definition
Whether you're a jetsetter, executive, or just an everyday man looking for excellent Italian tailoring or an elite American-made suit, we can help you find the perfect bespoke situation for you. A great tailor, and a great bespoke suit company, will utilize your measurements and tailor a two-piece or three-piece suit to fit you perfectly. If you're looking for the gold standard for men's custom suits, treat yourself to a completely bespoke experience. Take pride in all aspects of their appearance with a completely personalized suit and look like the physical definition of custom.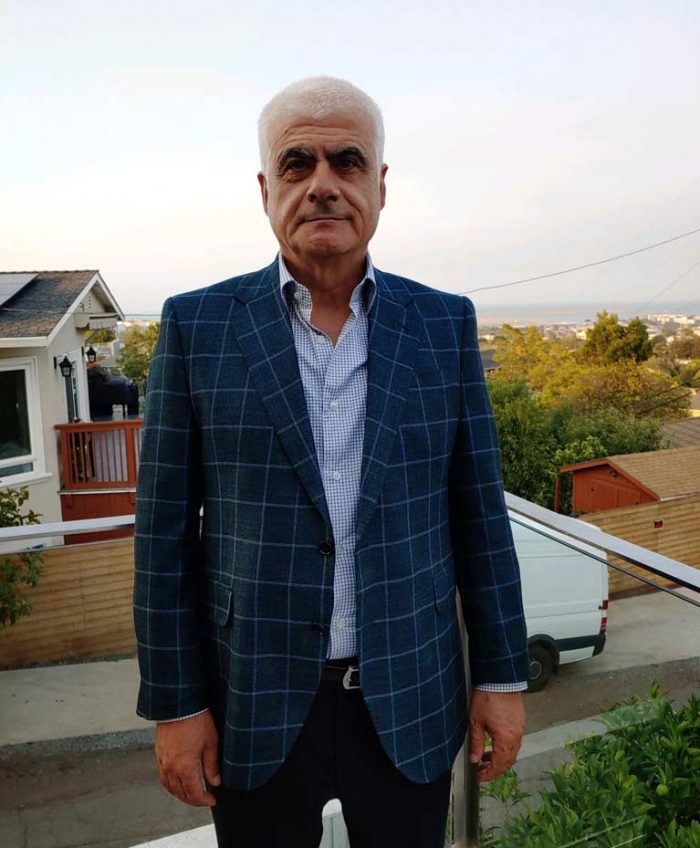 Specialized Fashion
At Peter Panos Bespoke Tailor in San Francisco, CA, we can create any style for any occasion. This includes theater, themed events and even lifestyle. Earlier this year, we are proud of our Vegan Suit creation. Every thread custom, hand-made from cotton and bamboo
Why is it Impotent to Find the Master Tailor for Your Clothing Needs
The most important demand is "WELL-FITTED GARMENT." This trumps the fine fabrics and
the quality workmanship. It takes lots of years to have experience to be great at it; the cutting of
the fabric, the sewing pressing technics, and the fitting from a master tailor earn the experience
and knowledge for the whole process which can help the client to make better choices on their
shirt and coat purchases. There is also a lot of decisions to make about the style, color, and what
to wear for a special event.
Our Latest Specialized Achievement.
A Full-Length Bespoke Tailored Tuxedo Overcoat. A Formal Custom Tuxedo that is custom hand made from 100% pure cashmere, satin trimming detail that gives the cashmere overcoat attention to detail statement.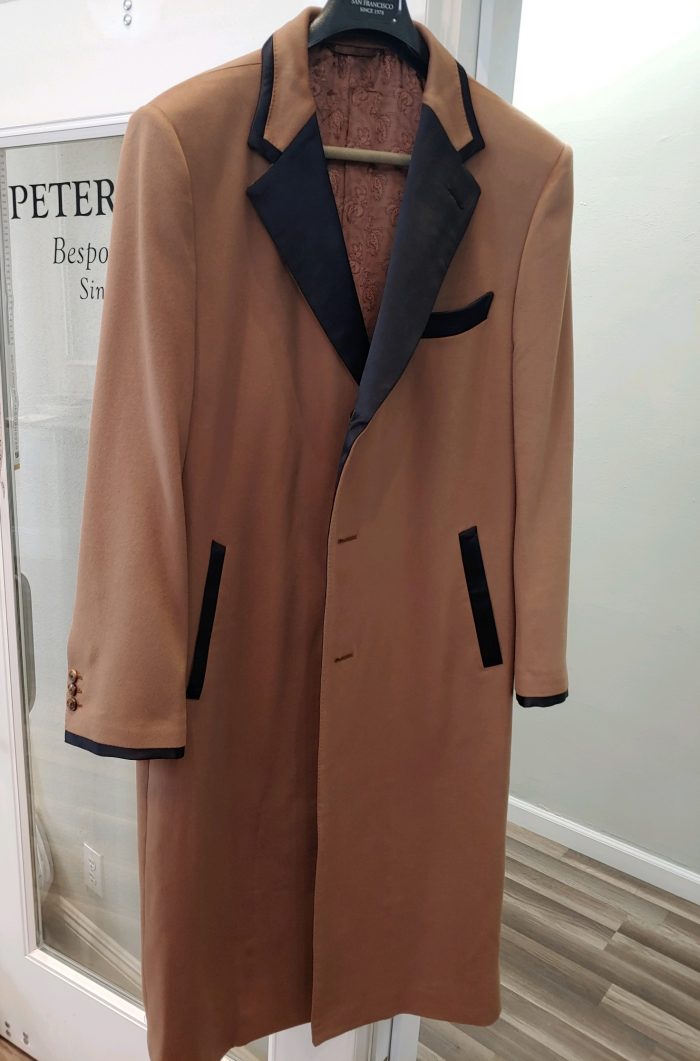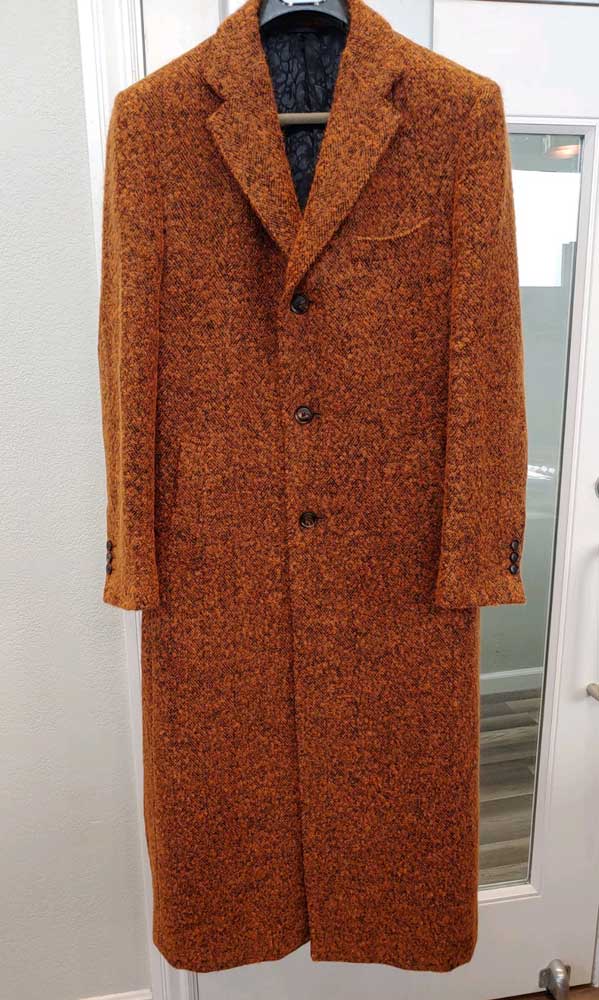 Coat Season Has Arrived!
100% wool Boukle' English woolen grey & orange long top coat, full length. Custom wool Boukle made in multiple colors and sizes.