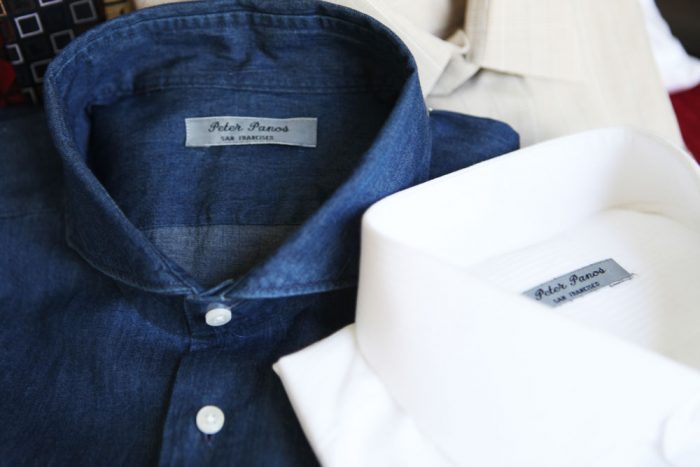 At the heart of every great suit is a well-fitted, button-down dress shirt. Not only does Peter Panos Bespoke Tailor specialize in custom suits and tuxedos, we also tailor custom men's shirts in San Francisco, CA.
Don't search through countless department stores trying to find your perfect fit—let Peter tailor you a custom-fitted shirt to compliment your bespoke suit or tuxedo. We guarantee to find you the perfect look and the right materials, for a quality shirt you won't find on any rack.
Picking Your Material
Our approach to creating the best custom dress shirt in San Francisco, CA starts with fabric. We offer a wide variety of fabrics to choose from when designing your shirt. We work closely with Alumo and other high quality Italian fabrics. Choose the fabric of your choice, your style and the cut of your dress shirt and let Peter Panos Bespoke Tailor handle the rest.
The Perfect Fit
We specialize in designing all types of bespoke shirts in San Francisco, CA, for any body type or occasion. Skip the department store and contact us today! Although mainstream retailers offer a wide variety of dress shirts, their standardized sizing system never accommodates everyone's body type. Ordering from us allows you to create the perfect, well-fitted dress shirt that you'll be proud to add to your wardrobe.
Customize Your Shirt
Stop in and visit us in person or contact us at 415-986-8597 to learn more about our custom shirts and alteration capabilities. You'll work closely with Peter Panos, guaranteeing a perfect, custom-made bespoke match.