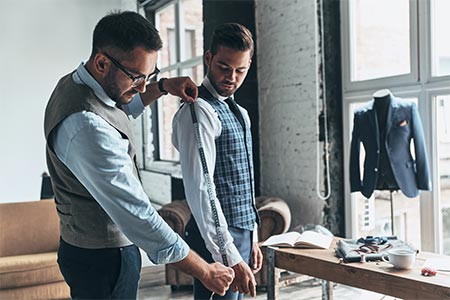 Modern man has a sense of style and needs to look dashing in any form of outfit, and irrespective of the setup, some level of confidence oozes from a man in a stylish outfit. In Napa, California, men are in luck as Peter Panos Bespoke Tailor is here to dress you based on your needs. We are well known for our high-quality custom tailor services focusing on custom making shirts, suits, pants, and coats for our esteemed clients.
We have been providing the highest-quality custom suits to celebrities and businessmen since 1978. With over 50 years of experience, you can trust us to deliver high-quality custom-made tailored outfits to suit your daily needs.
We have some custom handmade full-length tuxedo overcoats with statin trimming details, 100% wool Boucle' available in English woolen grey and orange colors in some of our latest specialized achievements. So, contact us and make an appointment so you can secure yourself a bespoke suit, tuxedo, shirt, coat, and even try our latest specialized achievements. Contact us today!
Men's Custom Suits in Napa, California
Custom-made suits fit like a glove as the suit is tailored based on your specific measurements then handmade only for you. At Peter Panos Bespoke Tailor, we specialize in men's custom-made suits, among other orders. We make sure your sense of style is represented by your choice of fabric and craft quality to deliver a perfectly tailored suit.
For the men in need of custom-made suits, visit our branch in Napa, California, and let us dress you in the most elegant suit that will boost your confidence and tickle your ego.
Custom Suits
Men's custom suits are one of our many specialties. Peter Panos Bespoke Tailor will have your suit made according to your style, cuts, and fabric. When it comes to material, we only work with the best quality European mills like Holland & Sherry, Loro Piana, Scabal, and Vitale Barberis Canonico, to mention but a few. Our final product will complement your body features, complement your complexion, and make you feel like the celebrity you are.
Tailored Tuxedos
When getting tuxedos, you deserve one that suits you in every aspect, be it jacket sleeve length or pant length. You should be in a tuxedo tailored with a precise hem, and there are no better people for the job than Peter Panos Bespoke Tailor. We will create the perfect look for your special day, be it your wedding, graduation, or an award-winning occasion.
Would you please not settle for a rental while we can have you dressed in a memorable tuxedo. The whole process will take about 6-8 weeks; what are you waiting for? Contact us now while there is still time to save your special day.
Men's Custom Shirts
The glue holding together a great suit is a well-fitted shirt. In addition to custom-made tuxedos and suits, Peter Panos Bespoke Tailor also works on customized shirts to give you the perfect button-down dress shirt. Finding the perfect fitting shirt that compliments your high-quality suit will have you searching store after store. We understand the predicament of finding an ideal fit, so we custom make it for you. Our custom-made shirts are a precise fit and from quality materials to give you a well-polished look.
Custom Shirts
We can have your shirt custom-made; we let you choose the fabric from our wide variety, including Alumo and other high-quality Italian materials. In addition to fabric, you get to choose the style and type of cut you prefer for your dress shirt, and we get working. Our custom shirts are a perfect fit for all body types as our professional tailors take the measurements.
Are You in Need of Custom-Tailored Suits and Shirts?
Napa, California, the number one tailor Peter Panos Bespoke Tailor is in close vicinity and only a drop away. With about five decades of experience, we pride ourselves on making elegant and stylish custom-made tuxedos, suits, dress shirts, and coats for our trusted customers.
We work with well-known fabric mills like Holland & Sherry, Loro Piana, Scabal, and others. We know the secrete to the perfect outfit lies in the type and quality of the fabric. Our custom-made suits are tailored to fit your body type, complement your features, and showcase your sense of style.
Apart from the shirts, suits, and coats, you can accessorize with us. Our offer of accessories ranges from belts, ties, and cufflinks to suit your style. So, visit us today and have your measurements taken so we can get working on making you dazzle. You'll work closely with Peter Panos, the master of masters, making sure your suit, tuxedo, and coats are in safe hands.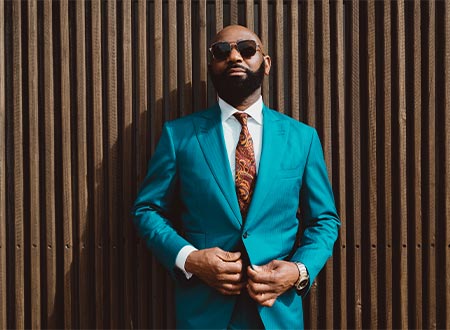 Frequently Asked Questions about Bespoke Tailoring
Here are the answers to a couple of questions about Peter Panos Bespoke Tailor and the tailoring process:
What Is Bespoke Tailoring?
Bespoke Tailoring is a men's clothing store owned by none other than Peter Panos. He opened his store back in 1978, and for over 50 years, the store has specialized in custom-made Men's suits, tuxedos, shirts, and coats. In addition, Bespoke Tailoring provides services to businessmen and celebrities like Pixar's John Lasseter and the San Francisco Symphony's Michael Tilson Thomas.
Some of the special occasions we can custom make suits include groom weddings, anniversaries, personal preference or style, and any special occasion that requires a memorable outfit. Apart from our everyday styles like theater, lifestyle, and themed events, Bespoke Tailoring is working on a Vegan Suit creation. We take pride in the Vegan Suit creation as every thread is custom handmade from cotton and bamboo.
Over the years, we have opened stores in different parts like San Francisco, Brisbane. Colma, Oakland, San Bruno, Daly City, Sausalito. Berkeley, Muir Beach, The Entire Bay Area, and currently in Napa.
How Long will the Tailoring Process Take?
The process takes about 6-8 weeks, sometimes longer. The first stage is the initial consultation with Peter Panos to discuss style, fabrics, and personal preferences. After the consultation, we start creating your suit. When it is ready, you will need to come to our store to try the suit on. If it does not fit perfectly, Peter Panos Bespoke Tailor will make necessary alterations, which may take a few weeks. In the end, you will have a perfect and gorgeous suit to wear.