Nowadays, men have a sense of style and need to look stunning in any attire, and regardless of the setup, some level of confidence flows from a man in a fashionable outfit. In San Mateo, California, men lucky as the Peter Panos Bespoke Tailor is ready to dress you based on your needs. We are famous for our high-quality custom tailor services focused on custom-creating shirts, suits, pants, and coats for our distinguished clients.
We have been offering the highest-quality tailored suits to entertainers and professionals since 1978. With over 50 years of experience, you can trust us to create high-quality customized clothing to meet your daily demands. We have some custom handmade full-length tuxedo overcoats with exquisite trimming features, 100 percent wool Bouclé available in English woolen grey and orange colors in some of our recent specialized achievements. Contact us today to learn more about our bespoke formalwear.
Men's Custom Suits in San Mateo, California
Peter Panos Bespoke Tailor is located in San Mateo, California, specializing in custom suits, pants, and coats. Several high-end European mills, including Vitale Barberis Canonico, Holland & Sherry, Loro Piana, Scabal, and others, partner with us. We guarantee that after we're through fitting you, you'll feel just as good as you look.
Every buyer works one-on-one with Peter to design their custom suit, including selecting the fabric, style, and cut. Peter will make sure that your suit and pants' material, artistry, and fit are in keeping with your style.
Custom Suits
One of our many specialties is the creation of one-of-a-kind ensembles. Peter Panos Bespoke Tailor will create a unique suit in terms of style, cuts, and materials. We only utilize the highest-quality European mills for our materials, such as Holland & Sherry, Loro Piana, Scabal, and Vitale Barberis Canonico. Our finished result will improve the appearance of your physical traits and skin tone, and it will make you feel like the celebrity that you genuinely are.
Tailored Tuxedos
One of our numerous specialties is custom-made outfits. Your tailored tuxedo will be a tailored design to your style, cuts, and materials by Peter Panos Bespoke Tailor. We only use the highest-quality European mills for our materials, such as Holland & Sherry, Loro Piana, Scabal, and Vitale Barberis Canonico, to name a few. We allow all our clients to state their desired style and contribute to the designing process.
Men's Custom Shirts
A well-fitted, button-down dress shirt is the foundation of every superb suit. In addition to custom suits and tuxedos, Peter Panos Bespoke Tailor also creates men's custom shirts in San Mateo, CA. Let Peter create a custom-fitted shirt to complement your customized suit or tuxedo instead of scouring department stores for the correct fit. We promise to get you the perfect fit and materials for a high-quality shirt you won't find on the shelf.
Custom Shirts
If you would like a shirt made to order, we can do it using various fabrics, including Alumo and other high-quality Italian materials. Your dress shirt will be ready to order, and you will get to choose the design and cut, as well as the fabric. Custom-made dress shirts are a perfect fit for all body types because our professional tailors take the time to understand your body form.
Are You in Need of Custom-Tailored Suits and Shirts?
Peter Panos Bespoke Tailor, one of San Mateo, California's most prestigious tailors, is nearby and only a short distance away. As a family-owned business with more than five decades of experience, we take great satisfaction in providing gorgeous and sophisticated custom-made tuxedos, suits, dress shirts, and jackets based on our clients' tastes and preferred styles.
Fabric mills such as Holland & Sherry, Loro Piana, Scabal, and others work with us on various projects. As we all know, the type and quality of cloth used in an outfit are critical to its overall appearance. Our custom suits fit your body type, complement your features, and show your style and personality.
In addition to the shirts, suits, and coats, we also provide a variety of accessories. Belts, ties, and cufflinks are some of the accessories available to complete your look at our online store. To get started, come in right away and have your measurements taken so that we can start working on making you look fantastic! Working with Peter Panos, the master of masters, you'll be able to assure the longevity of your suit, tuxedo, and other outerwear.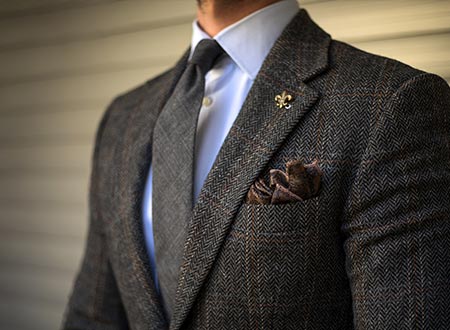 Frequently Asked Questions about Bespoke Tailoring
We have taken it upon ourselves as Bespoke Tailoring to satisfy our customers with the most trendy, fashionable, and quality custom suits, tuxedos, shirts, and other male accessories. To learn more about our customizing capabilities, come see us in person or call us at 415-986-8597. You can also write to us using our online form. We look forward to making you a one-of-a-kind suit that will never go out of style. Below are some of the questions we often get from clients across the country.
What Is Bespoke Tailor?
Bespoke Tailor is a men's clothing store owned by none other than Peter Panos. He opened his store back in 1978, and for over 50 years, the store has specialized in custom-made Men's suits, tuxedos, shirts, and coats. In addition, Bespoke Tailoring provides services to businessmen and celebrities like Pixar's John Lasseter and the San Francisco Symphony's Michael Tilson Thomas.
Some of the special occasions we can custom make suits include groom weddings, anniversaries, personal preference or style, and any special occasion that requires a memorable outfit. Apart from our everyday styles like theater, lifestyle, and themed events, Bespoke Tailoring is working on a Vegan Suit creation. We take pride in the Vegan Suit creation as every thread is custom handmade from cotton and bamboo.
Over the years, we have opened stores in different parts like San Francisco, Brisbane. Colma, Oakland, San Bruno, Daly City, Sausalito. Berkeley, Muir Beach, The Entire Bay Area, and currently in Napa.
How Long will the Tailoring Process Take?
The customization process takes around 6-8 weeks from order placement to completion. So please come in as soon as possible for your measurements, and we'll ensure you get your suit in time.