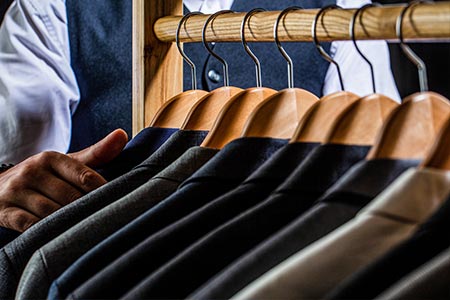 Peter Panos Bespoke Tailor has been serving the Silicon Valley region with bespoke tailoring since 1978. Peter Panos started his business in 1976 with only $2 in his pocket. He moved to San Francisco from Beirut Lebanon and began knocking on doors by showing his skills in tailoring. His first store was opened in Union Square two years later, in 1978.
Today, Peter Panos Bespoke Tailor focuses on custom suits, coats, pants, and shirts, and does its best to help our clients integrate their unique style into their high-quality apparel.
Among our clients are successful businessmen, working men, and celebrities, such as the San Francisco Symphony's Michael Tilson Thomas and Pixar's John Lasseter. We help them discover their personal styles through high-quality and well-fitted garments. Contact us today to learn more.
Men's Custom Suits in San Mateo, California
At Peter Panos Bespoke Tailor, we create finely tailored, custom suits by using patterns from the unique measurements of our customers.
We work with such high-quality and well-known European mills as Holland & Sherry, Loro Piana, Vitale Barberis Canonico, Scabal, and others.
We work individually with each customer by allowing them to choose the fabric for their future suit, style, and cut. Their style is always emphasized with workmanship, fabric, and fit of the suit and pants. In our custom suits, every customer feels like a celebrity. We also make sure that the new suit will complement our client's body type and provide the best look.
Custom Suits
A custom suit is made with a customer in mind. A tailor takes measurements in order to create a unique pattern. This type of suit is a great and long-lasting investment in appearance for those who want to look solid.
High-quality custom suits created by tailors at Peter Panos Bespoke Tailor is like a piece of art. It is a combination of skill in tailoring, artistry in pattern making, and creative design.
Tailored Tuxedos
Are you getting married, and you want to look great at your wedding? Let Peter Panos Bespoke Tailor tailor your tuxedo. Our mission is to make sure you look fantastic on your wedding day. We will create a perfect look, guide you through the process and even compliment your partner.
Forget about renting a tuxedo – let us create a suit for you that will definitely turn heads and make you look like a million dollars on one of the most important days of your life.
Men's Custom Shirts
At Peter Panos Bespoke Tailor, we also specialize in tailoring men's custom shirts. You do not have to search through departments stores anymore by trying to find a perfect custom shirt that will complement your suit or tuxedo.
We can guarantee that we will use the right materials to create a quality and unique shirt that cannot be found on a rack in a department store.
Custom Shirts
We specialize in creating all types of custom shorts for all body types and any occasion. We do not use the standardized sizing system because it never accommodates everyone's body size. Instead, we create well-fitted, high-quality custom shirts from scratch.
The shirts created at Peter Panos Bespoke Tailor are handmade and designed to look and feel gorgeous. We make sure that every custom shirt we make is created with the client and for the client.
Are You in Need of Custom-Tailored Suits and Shirts?
There is nothing like a custom-tailored suit or shirt that is created to find your individual measurement and body type. You definitely need them if you are looking for something unique and specific. There are some other reasons why you should get a tailored suit or shirt from Peter Panos Bespoke Tailor.
First, tailor-made suits never go out of fashion because of their timeless fits and high quality. On the contrary, the demand for them keeps increasing.
Also, custom-tailored clothes last longer. At Peter Panos Bespoke Tailor, we use fine quality fabrics, so you can be sure that you will be able to wear your suit and shirt for many years. We are absolute experts in tailoring with over 50 years of professional experience, which sets us apart from the competition.
Do you want to feel and look like a celebrity? Then you should definitely get a custom-made suit and shirt from us. We will make your experience unique and personal.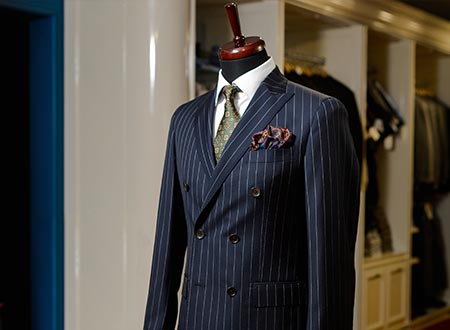 Frequently Asked Questions about Bespoke Tailoring
Here are the answers to the most common questions about Peter Panos Bespoke Tailor and our suits.
What Is Bespoke Tailoring?
Bespoke clothes are custom-made clothes that are made to individual order. Bespoke at Peter Panos means comparative pricing to retail outlets, classic, contemporary, and fashion forward.
There are many special occasions at which you can wear your bespoke tailored suit, including groom weddings, anniversaries, personal preference or style, themed events, theater, and even lifestyle.
How Long will the Tailoring Process Take?
The tailoring process will take between 6 and 8 weeks. Our work starts with the initial consultation, during which you choose the fabric and detailing with Peter Panos Bespoke Tailor. After the consultation, the construction begins. It is the longest stage of the process that can take several weeks or even longer.
When the suit is ready, Peter Panos Bespoke Tailor will contact you in order to schedule fittings. The purpose of this appointment is to make sure that the suit fits your body perfectly. If it does not, Peter will make alterations, which can take a few weeks. When the alternations are made, you will finally have a perfect custom-made suit.