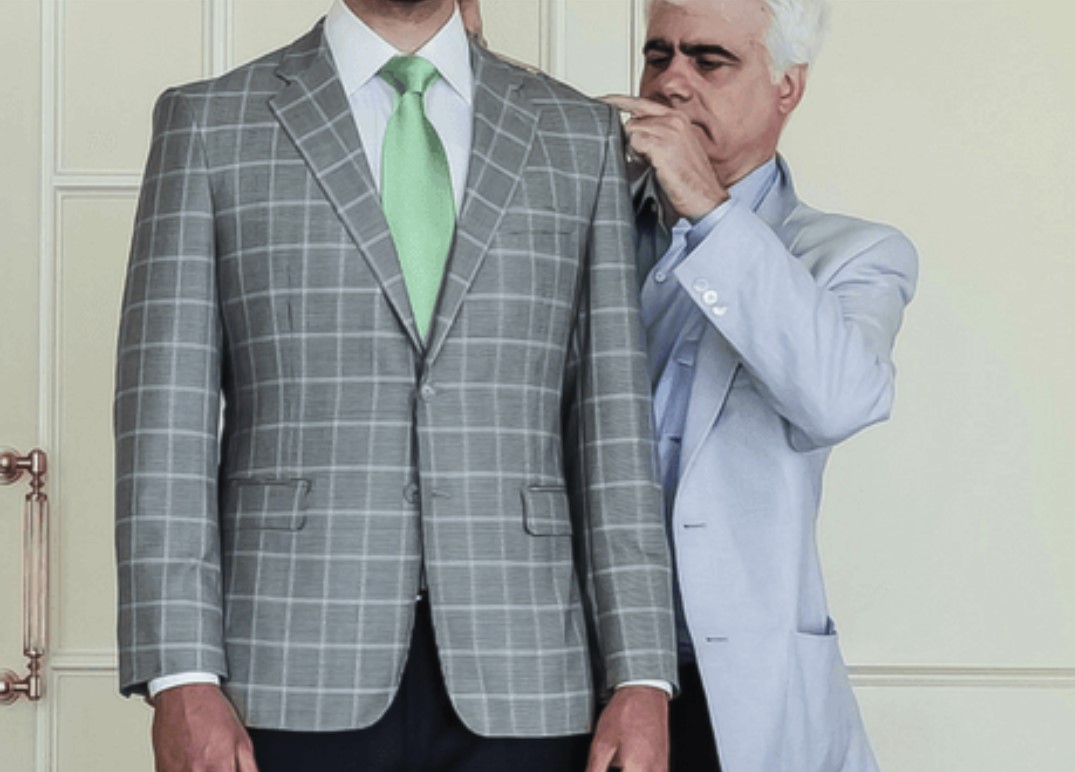 Bespoke Suit vs. Tailored
If you've been shopping around for new suits, you might be wondering: What is the difference between a bespoke suit and tailoring one to your needs? Your first tailored suit can be a turning point. You know it is going to upgrade your look, allowing you to find a polished garment that also fits your jet-setting lifestyle. The difference between buying a ready-to-wear suit or choosing one made-to-order by a master tailor is immeasurable. Here, we'll tell you how to understand the difference between a bespoke suit versus a tailored one.
Buying a Suit to Be Tailored
A mass manufacturer creates a design for a suit with the goal of selling it to as many customers as possible. They take several commercial aspects into consideration – Where is the suit being sold? Who is their target customer? What lifestyle needs does this customer have? While large design houses try their best to utilize all these details, they also have to create pieces that will fit the general public. They usually have fashion designers come up with generic measurements to fit each size. These suits are made for "average" heights and median measurements for shoulder width, torso length and waist size.
When customers buy one of these "off-the-rack" suits, the chances of it fitting perfectly are pretty impossible. It might fit you in one place, but it's difficult to find a suit jacket and pants that fit your body perfectly and also match your personal style. You'll have to take it to a tailor, who might be able to take in the waist of the pants or shorten the cuffs. While the cost of taking your store-bought suit to a tailor does raise the total purchase price for the suit, it will ensure that it fits you much better and makes you look polished.
A tailor can't make major adjustments, however, like restructuring the shoulders or taking out the waistline more than an inch. This usually requires taking the entire suit apart, getting more fabric from the manufacturer and recomposing it completely
Investing in a Bespoke Suit
Bespoke tailoring, on the other hand, is the traditional method of making clothes from scratch, using the specific measurements of the customer. When you treat yourself to bespoke tailoring, a professional tailor will work on your suit from the ground up. They'll consult with you – starting with your measurements taken at several places around the body – and make an individual pattern for the garment maker. This pattern is the "blueprint" for your garment. The seamstress uses it to cut each piece of fabric and sew them together. This not only ensures a perfectly tailored fit, but it also means you're truly creating a one-of-a-kind suit.
When you meet your master tailor to design your bespoke suit, they'll ask you a series of questions to help them hone in on your needs. These questions will ask the basics like color, fabric, and style of suit, but might also lean toward lifestyle choices – Do you carry your wallet in your front pocket? Are you very active throughout the day? Do you travel a lot? All of these questions will help the tailor decide on the design of your suit.
Your First Bespoke Suit: How to Tell Your Tailor Exactly What You Need
Once you decide together on cut, color and fabric, a bespoke tailor will start to take your measurements. They'll measure your neck circumference, chest circumference, shoulder width, arm length, wrist and bicep circumference and the entire length of your back. For the pants, they will measure the outer and inner length of the leg (also known as your inseam), the circumference of the waist, length from navel to groin and the circumference of your hips. A great bespoke tailor will guide you along this process.
How Many Fittings Should a Bespoke Suit Have?
At many bespoke tailors, the craftsman asks for one fitting before the suit is made and one afterward. At Peter Panos Bespoke Tailor, we want to make sure we really get it right. We offer up to four fittings per bespoke suit so that your tailor can absolutely perfect your pieces.
Will I end up looking like James Bond? What suits does James Bond wear?
At the heart of 007's style is undoubtedly his James Bond smart suits with flawless tailoring. If you're searching for the same quality seen in all the James Bond movies, look no further. The bespoke suits seen in the past four movies have been made by a designer known for impeccable tailoring – America's Tom Ford.
What is an Example of Bespoke?
The finest examples of bespoke suits are seen on the British Royal Family. Prince Charles, who gets his suits made on London's Savile Row, is the quintessential example of a bespoke suit connoisseur.
What Color Suits Should a Man Own?
The color and variety of suits a man owns depends on his needs, but we suggest that you start with a neutral one in black or navy blue. You could always add a brown or pinstripe suit to your collection later and, of course, a tuxedo when the time comes. We suggest you own one suit for each day of the work week. If you present in office five days per week, then we suggest owning five suits in a variety of colors and fabrics. If you work in a profession that is very dependent on presentation, like a lawyer or advertising exec, you might consider having 10 or more suits to make a lasting impression.
The Final Analysis: Bespoke Suit Vs Tailored Suit
The bespoke suit vs tailored suit debate is one that can only be decided by the customer. It depends whether you're looking for something that's okay versus something that's excellent. Men of style have been investing in custom-made Italian suits and American suits for centuries. They know the ROI they'll receive with a perfectly presented suit is absolutely worth the cost and time. If you're looking to add a bespoke suit to your wardrobe, the experts at Peter Panos Bespoke Tailor are happy to guide you through the process, so you'll come out feeling like a 007 yourself.
Your very first bespoke suit is a milestone. The difference between off-the-rack (even when tailored) and a garment specifically made for your measurements and personal style, crafted by a master tailor, is immense. In order to get the suit of your dreams, however, you'll need to be able to tell your tailor exactly what you want.
Here's an overview of the vocabulary you'll need to get bespoke suit tailoring in San Francisco, CA.
Different kinds of suits
First, consider where you'll be wearing this suit. Mostly for work? At your wedding or other special occasions? Your tailor needs to know this so they can guide you toward appropriate style and fabric choices.
You'll also need to decide whether you want a suit or a tux. Tuxedos are considered more formal, are often worn with bowties and have satin lapels. They're most often worn to weddings, galas and other formal events.
Suits, on the other hand, are dressy enough for formal events, yet perfectly acceptable in the boardroom, the courtroom and on the street.
You'll also want to choose between a three-piece suit (with a vest, and more formal) or a two-piece suit (just the jacket and pants).
Fabric varieties
Your fabric choice will also have an impact on where and when you wear your suit. Here are four of the most common varieties:
Worsted wool: This is the most popular choice of fabric, thanks to its versatility in different temperatures. It has a slight sheen and works best with solid-color suits.
Super 120s wool: This is a lightweight, opulent fabric that works well with three-season suits.
Mohair: Mohair is made from angora goats and is quite insulating as well as wrinkle resistant, making it great for winter suits or cool climates.
Flannel: Flannel is a brushed worsted wool that is breathable, lightweight and available in a wide variety of colors and patterns.
Tips and terminology
For the best results, bring photos to your tailor to show them what you're looking for. This will help when you're not sure how to describe what you're after. Here are some other useful terms:
Pant break: This is how much your pants meet your shoes.
Suit jacket vent: These are slits at the back of your jacket that make them more fitted. You can get single, double or no vents.
Single or double breasted: This refers to how many columns of buttons go down the front of your jacket.
Padding: Shoulder pads create a broad look, while no padding is more modern.
Taper: Having your jackets or pants tapered creates a more modern, fitted look.
Suit tailoring in San Francisco, CA
Peter Panos Bespoke Tailor has been creating bespoke suits for San Franciscans since 1978. Our clients range from businessmen to celebrities, and we take pride in making the highest-quality custom suits, coats, pants, shirts and more. Let us help you reflect your individual style in a brand-new, made-to-order wardrobe. Contact us today to set up an appointment. We look forward to working with you soon.

Tags: how to tell your tailor exactly what you need, what do you need in a custom suit., your first bespoke suit


Categorised in: Tailored Suits