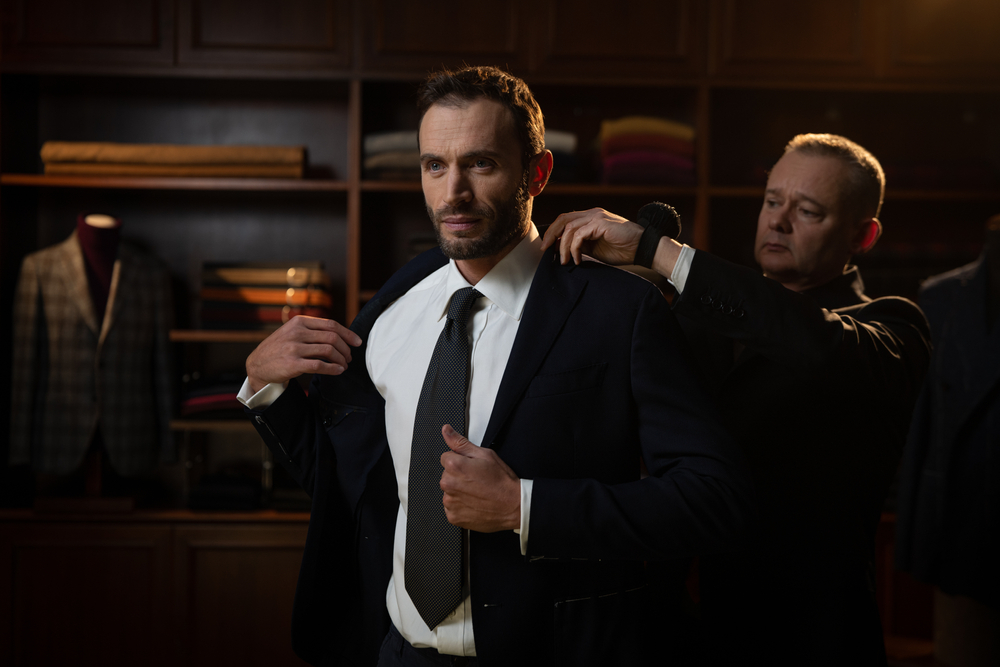 A custom-tailored suit is the epitome of a well-dressed man. It is a suit made specifically for your body and your taste in style. Custom tailoring is not just about the perfect fit; it's about the attention to detail, the fabric's quality, and the design's elegance.
What is a Custom-Tailored Suit?
A custom-tailored suit is a suit that is made to fit you and only you. It is a suit designed to accentuate your best features while downplaying any flaws. The process starts with an initial consultation where you will discuss your style preferences and any specific needs and take your measurements. These measurements are then used to create a pattern that is unique to you.
From there, you will select the fabric, style, and details you prefer. The tailor will then create a mock-up, or "toile," which will be used to ensure the perfect fit and design. Once adjustments are made, the final suit will be crafted with the greatest care and attention to detail.
The Endless Advantages of a Custom-Tailored Suit
There are many advantages to having a custom-tailored suit. Firstly, it offers you a perfect fit. A good fit is essential for a suit, and with custom-tailored suits, you will never have to worry about the suit being too tight or too loose. It will fit you perfectly, like a second skin.
Another major advantage is the level of professionalism that comes with a custom-tailored suit. A well-tailored suit indicates attention to detail, a mark of professionalism, and is often associated with a high-quality fashion sense.
One of the greatest advantages is the quality of the fabric. When you invest in a custom-tailored suit, you can choose great fabrics that will last longer and maintain their original texture over time. A quality fabric can enhance the overall experience of wearing a suit, making one feel comfortable and more confident in it.
Finally, a custom-tailored suit provides better value for your money than off-the-rack suits. While the initial cost of a custom-tailored suit may be more than a suit purchased off-the-rack, custom-tailored suits last longer, fit better, and look better, providing a much greater value over time.
Why Choose Peter Panos Bespoke Tailor for Custom-Tailored Suits?
There are many tailors in the market, but none come close to Peter Panos Bespoke Tailor when it comes to custom-tailored suits. This tailor has provided high-quality bespoke tailoring services to clients for over 40 years, so you can trust that they have only the best expertise and experience in this area. Here are some of the reasons why Peter Panos Bespoke Tailor is the best choice for custom-tailored suits:
Unmatched Quality and Craftsmanship
At Peter Panos Bespoke Tailor, every suit is crafted by a highly skilled and experienced tailor. They use only the finest fabrics, techniques, and materials to create a masterpiece unmatched in quality and craftsmanship. Every detail is scrutinized to ensure that your suit is the perfect fit for you.
Unparalleled Fit
The fit of a custom-tailored suit is unparalleled, making you stand out from the crowd. Your suit will be made to fit your body and will flatter your features. The first impression people get from your suit significantly impacts your overall perception. With a custom-tailored suit, this impact is second to none.
Unique Style
Another great aspect of custom-tailored suits is the style variation available. You can access a wide range of style variations by choosing Peter Panos Bespoke Tailor. Every detail, from lapel design to pants, can be customized to suit your preferences. You will have total control over the design and style of the suit, and with the assistance of the tailor, you can create the perfect suit for any occasion.
Bespoke Suits Near Me
In conclusion, a custom-tailored suit is an investment worth making. It will provide unparalleled fit, comfort, style, and durability. At Peter Panos Bespoke Tailor, you will experience exceptional craftsmanship and quality. From the consultation process to the final fitting, you will be impressed with every aspect of the process.
So why wait? Schedule a consultation with Peter Panos Bespoke Tailor today to start the process of creating your customized, tailor-made suit. The result will leave you with exceptional style, confidence, and professionalism. You'll attract all the right kinds of attention with the suit that fits you perfectly and looks great too!
Categorised in: Custom Suit