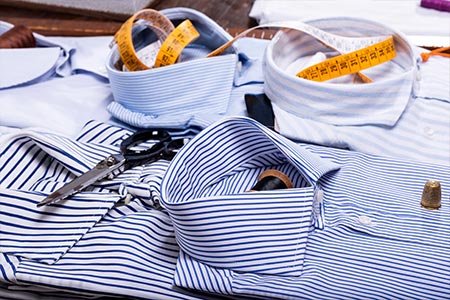 Putting on a suit can and should be more than simply getting dressed. When you have a custom-tailored suit, it can completely transform your look. Many men make the mistake of thinking that a good fit merely encompasses buying the right size off the rack, but there's more to it than that.
Most clothing is designed for a pre-determined set of measurements, which you may or may not fit into already. They rarely account for the other variables of the human body that can have a serious impact on fit, including your individual body shape and height. Off-the-rack clothing is designed for efficiency and cost-effectiveness, not style. When you invest in custom tailored suits in San Francisco, CA, however, you'll get a completely different experience:
The fit is better: Obviously, when you invest in a tailored suit, it will be made to your exact measurements and body type. You would be shocked to find how some simple adjustments can create better lines and address any areas you'd like to emphasize or conceal.
Better materials and craftsmanship: Because you're paying a master tailor to create a suit from start to finish, they'll have access to better materials. Off-the-rack suits rely on what's readily available, inexpensive and easy to sew. Tailors will provide you with quality material that's designed to last.
Enhance your individual style: Having a tailor design your shirts and suits opens you up to more fashion possibilities—you won't have to settle for what's popular and "in" right now. Whether you're looking to use an unusual color, desire a fabric that's best suited for the San Francisco fog or want to adjust your collars and pockets, the customizations are limitless. Men's fashion can be classic and interesting when you add details.
Stop trying on dozens of suits to find the right one: Finding a good suit off the rack isn't as great of a deal when it takes you hours to find it. Imagine the convenience and luxury of walking into a tailor, being measured and consulting on your suit design just one time. For anyone whose job demands long hours, you'll appreciate the time savings.
Quality clothing lasts longer: Finally, when you buy a custom suit, you are making an investment. Tailors focus on making quality pieces that last. Instead of needing a new suit every year or two, you'll be able to rely on classic, stylish pieces that were made to fit your individual body and needs.
Custom tailored suits in San Francisco, CA
Invest in a tailored suit in San Francisco, CA from the area's finest makers. Since 1978, Peter Panos Bespoke Tailor has been providing customers with master bespoke tailoring. We take pride in providing high-quality custom tailor services to businessmen and celebrities. We focus on making custom suits, pants, coats and shirts, so our clients can integrate their own unique style into quality pieces of tailored apparel. Call or stop by our store today to find out how we can help you look your best.

Tags: tailoring custom shirts, tailoring custom suits


Categorised in: Tailored Suits