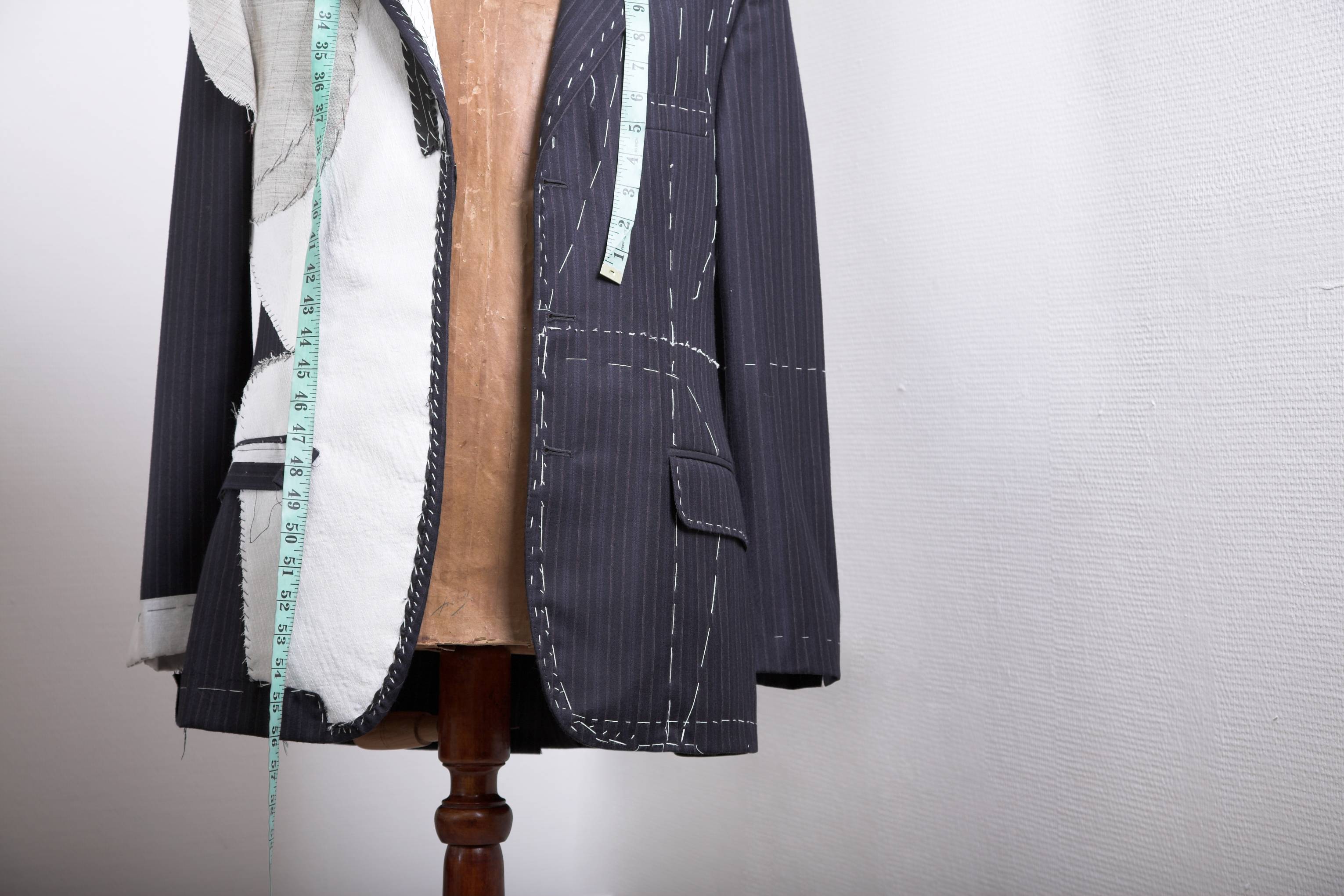 Tailor-made suits usually fall into two categories: custom order or bespoke. While both may be made to your measurements, a bespoke suit is much more expensive. Suits that are custom-ordered use computer-generated patterns and may only require two fittings.
While they fit you per your measurements, they are less likely to be able to accommodate how your body moves or accentuate your personal style. Before you invest in a suit and shirt, you must know the advantages of using a professional like Peter Panos Bespoke Tailor.
$500 vs. $5,000
The only similarity between a custom order suit and a bespoke suit is that they both use your measurements to create the pattern. Both may be made to your measurements, but the real test of quality is in how it's made and the materials used.
The intimate details like hand-sewn sleeves and multiple fittings allow the tailor to understand your unique body movements and style. A $500 custom suit will fit you well standing still. A $5,000 bespoke suit and shirt will fit you no matter what you do! It will allow you to be comfortable in your confidence, knowing you look your best.
Time, Travel, Precision
Key differences between a custom order suit and a bespoke suit and shirt are the time it takes to make it, the travel involved, and the detailed precision you get from having an artisan craft your apparel. Bespoke tailoring is an art form in itself. Patterns are not computer generated; the tailor draws them with exacting precision.
It takes much longer to create a bespoke suit and shirt because multiple fittings are required. This may mean traveling to meet the tailor several times as the suit and shirt are being put together. During each fitting, the tailor will adjust the design of each pattern piece so that it naturally fits your body and movements.
Style Guidance
If you decide to work with a bespoke tailor, they will be able to offer guidance when it comes to style and fashion appeal. Every person is different in their physical appearance, mannerisms, and personality.
A bespoke tailor will design your suit and custom shirt using their years of experience and impeccable eye for fashion. For a suit to be truly bespoke, it must fit you perfectly in every way, including your personality and character.
The Suit Itself
The appearance of a suit and shirt speaks volumes. Most people can identify a bespoke suit while it is still on the hanger. Once you put it on, there will be no denying that a bespoke suit and shirt were made explicitly for you. It will move naturally with your body in such unison that someone might think of it as a second skin.
Your movements will not be restricted; you can take on any task, from dancing the waltz to hailing a taxi. Buying men's custom suits is taken to the next level when you work with a tailor who specializes in bespoke apparel.
$500 Custom Suit
When you look closely at $500 men's custom suits or men's custom shirts, you will see a tailor-made item made to your measurements. You will also see many machine-stitched seams.
You will also notice that the suit may not move as freely with your body as you would have hoped. The suit may fit exceptionally well while you are sitting or standing but leaves a lot to be desired regarding freedom of movement.
$5,000 Bespoke Suit
A $5,000 bespoke suit or shirt will stand out from other custom-made items in many ways. Sleeves and collars will be hand-sewn. You will immediately notice how easily your body moves without restrictions or feeling confined.
The materials will be of the highest quality, and the workmanship will be exceptional. No detail will be overlooked, and every nuance will be addressed flawlessly. Every angle and stitch will be carefully taken into consideration.
Exact Fit for Natural Movement
It's important to remember that when a tailor is making a bespoke suit or shirt, the pattern is not simply made-to-measure. The pattern is produced by hand and continually adjusted through a series of fittings.
All of your natural movements will be considered at each fitting. The tailor will consider how your body moves and how your clothing will naturally respond to those movements. This ensures that you will not be restricted or confined in any way.
It's All in the Details
For a suit or shirt to be considered "bespoke," it must be yours, both in measurements and design. A bespoke item is truly yours in every way and will not fit or look the same as anyone else. It is meant to be worn by you and only you.

 

When it comes to a bespoke piece of apparel, the details that make up its design are uniquely yours. It will only look its best when you are wearing it.

 

Bespoke suits and shirts are the highest quality pieces of equipment available. Peter Panos Bespoke Tailor understands the importance of looking your best. The way to do that is to wear bespoke clothing made by one of the business's most brilliant and well-respected tailors. Paying a little more will get you the best bespoke clothing money can buy. Contact us today to learn more!

Tags: what is an acceptable price for a custom shirt


Categorised in: Bespoke Suit, Custom Suit, Tailored Suits