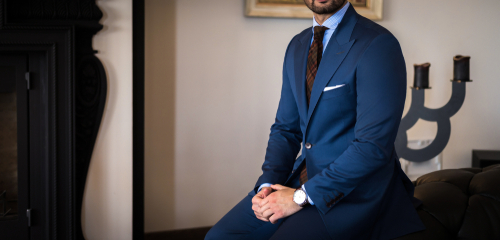 Tailored and custom suits are both made-to-measure garments designed to fit an individual's body shape. However, the terms 'custom' and 'tailored' are often used interchangeably, giving birth to confusion and misinformation. Let's delve deeper and explore the differences between the two.
What is a Tailored Suit?
A tailored suit is a made-to-measure garment designed to fit a specific individual's body shape. The process of making a tailored suit involves taking an initial set of measurements and alterations to create a fit that's comfortable, flattering, and stylish. Tailored suits are typically constructed using existing patterns and adjusted for an individual fit.
To understand the difference between a tailored suit and a custom suit, it's essential to comprehend how a tailored suit is made. A tailor takes measurements of your body to gauge the size, shape, and dimensions of your body. They then select a pre-existing pattern from a wide range of options and make small tweaks to the suit to ensure it fits you perfectly.
What is a Custom Suit?
A custom-made suit is a unique garment designed and modeled to meet the specific requirements of an individual. Unlike a tailored suit, which is adjusted to your body shape and size, a custom suit is entirely designed from scratch, starting with a blank canvas.
Making a custom suit involves a series of fittings and consultations where the client discusses the design of the garment with the tailor. It's a detailed, labor-intensive process that requires attention to detail and extensive knowledge of garment construction. A custom suit consists of either a full canvas, half-canvas, or a fused construction.
The key difference between custom suits and tailored suits is the construction of the garment. Custom suits are designed exclusively, and the pattern is cut from scratch to fit the client's body. Tailored suits, on the other hand, are made using existing patterns, which are adjusted to flatter the client's body type.
Custom Suits Offer More Options
Custom suits offer greater degrees of customization compared to tailored suits. With a custom suit, clients can choose from an assortment of fabrics, including high-end wool, silk, cashmere blends, and various colors and patterns.
Custom suits also offer unlimited design options, from lapel width to the type of pocket and button types. A custom suit is an excellent option for individuals who are putting on a suit for a special occasion or want to make a unique statement.
Tailored Suits Are Ideal for Standard Body Types
Tailored suits are the ideal choice for individuals with standard body shapes. They're suitable for people who don't require a suit to be designed from scratch but want to ensure that the suit they purchase is unique to their body type.
Tailored suits also usually have a lower price point compared to custom suits, making them accessible to a broader range of individuals.
Why Choose Peter Panos for Custom and Tailored Suits?
No matter your style, personality, body shape, or budget, Peter Panos Bespoke Tailor has a suit that will cater to your needs, taste, and preferences. Our bespoke suits are unmatched, with unique designs tailored exclusively to our clients.
We begin the custom suit-making process with a one-on-one consultation where we listen to your preferences and create a suit design that reflects your personality and style. Our suits are constructed by experienced tailors using the finest materials, including fabrics from world-renowned mills.
Our team is knowledgeable, friendly, and passionate about tailoring, ensuring that we deliver the best-in-class dressing experience for our clients. We prioritize every detail, from initial consultations to the final touches in the finishing area. Our goal is to provide our clients with the perfect fit suit that reflects their personalities and makes them look and feel confident.
Conclusion
If you're looking for a tailor-made suit, you might be deciding if you need a tailored suit or a custom suit. While both are effective options, it's important to understand their differences.
Tailored suits are designed to adjust existing patterns to fit an individual's body, while custom suits are made from scratch and designed exclusively to meet an individual's preference. Ultimately, it comes down to your body type, budget, and taste in style.
Whether you prefer custom or tailored suits, at Peter Panos Bespoke Tailor, we offer unparalleled quality and craftsmanship with attention to detail to ensure the perfect fit.
Bespoke Suits Near Me
Are you searching for a unique tailor-made suit that reflects your style and personality? Look no further than Peter Panos Bespoke Tailor. Our team is passionate about delivering the best-in-class dressing experience, focusing on quality, craftsmanship, and attention to detail. Book a one-on-one consultation today, and let us help you create the perfect suit that makes you look and feel confident.
Categorised in: Tailored Suits