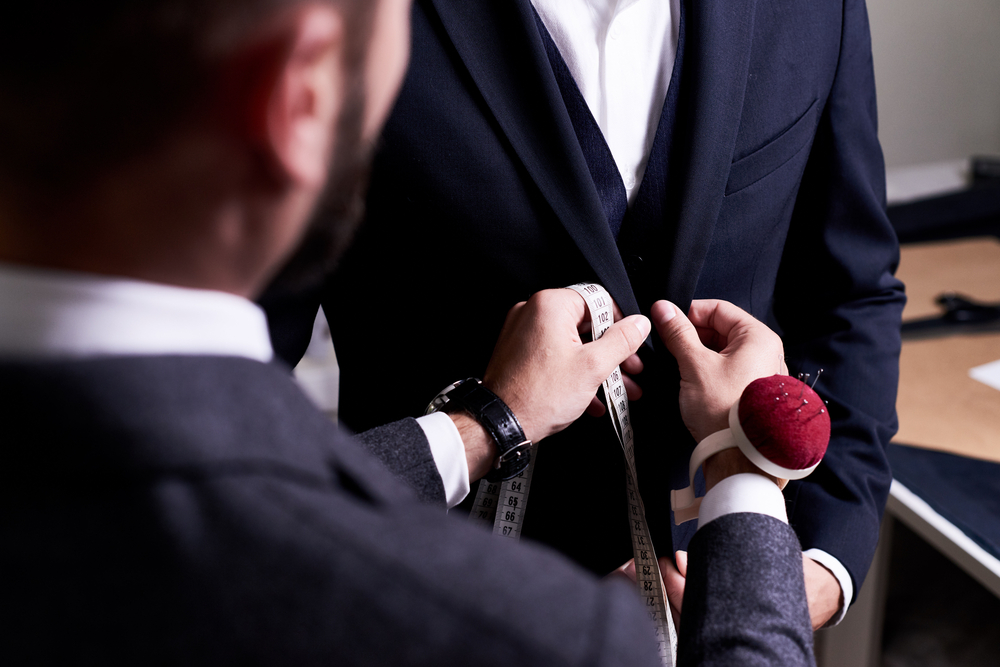 Made-to-measure suits are unique to the person buying them. They are precision-measured to fit the person's exact measurements. Also known as bespoke suits and apparel, a made-to-measure garment requires multiple fittings and is much more expensive than other custom-made items. They are made of the finest materials and constructed to last for many years.
You can find bespoke tailors across the globe. The price will vary significantly from location to location. The quality depends on the materials and the tailor's experience level. If you are traveling abroad and find yourself in need of an exceptionally made, affordably priced, made-to-measure suit, the following countries are known for tailors who produce quality suits and other garments.
Vietnam
In Vietnam, Hoi An and Ho Chi Minh City are both known for their tailors and the made-to-measure suits they produce. Hoi An is well-known for its tailors' high-quality, inexpensive suits. Many people travel hundreds of miles to purchase suits from its clothing shops. They specialize in many different types of garments as well, including shorts, dresses, and even undergarments.
Known as a nomad city, Ho Chi Minh City is a favorite place for travelers who stop at different places for several days or weeks as they make their way around the world. Many work online and can travel to various destinations. The tailors in the city produce high-end, top-quality made-to-measure suits and are well-known for their affordable prices.
Hong Kong
Hong Kong combines the affordability and efficiency of other Asian tailors with the quality you expect from a tailor in Italy or New York. Tailors who work in the Hong Kong area offer exceptional workmanship without cutting corners on precision or quality. While suits in New York and Italy can cost several thousand dollars, tailors in Hong Kong normally charge less than $750. Most tailors will custom-make other items of clothing as well.
Malaysia
Kuala Lumpur is one of the most popular travel destinations in Southeast Asia. Tailors in Kuala Lumpur are like hidden gems. Those who know about them love them and continue to return. Others often overlook Malaysia and opt for tailors in Singapore. The tailors in Singapore may be more recognized, but those who offer made-to-measure clothing in Malaysia often produce higher quality work for a much more affordable price. They will make all types of clothing, including shirts, pants, jackets, dresses, and more. In most cases, the turnaround time is just a few days.
Columbia
If going to Asia isn't your cup of tea, tailors in Bogota, Colombia, are exceptional for made-to-measure suits and other clothing items. From shirts to slacks to various types of outerwear, you can find mid- to high-quality clothing for reasonable prices. The tailors will offer you options regarding quality; choosing the better fabric will still result in affordable prices and long-lasting garments. You should visit a few tailors to choose the right one. There are many to choose from, and all have valuable skills and talents.
Italy
Italy and other European countries are known to have some of the best tailors in the world. With their exceptional skills and talents, they can charge thousands of dollars for their made-to-measure suits. These bespoke items can take weeks and are always made from the highest quality materials available. Many people prefer Asian tailors because they are less expensive and take less time to produce. If you are looking for a brand name designer, lean toward the European market and opt for an Armani or another big name.
Italy isn't the only European country with well-known tailors. Savile Row in London is known to produce some of the best-looking suits in the industry.
Gieves & Hawkes – London

Dormeuil – France

Dunhill – London

Senza Macchina – Italy

Cesare Attolini – Italy
No matter where you travel in Europe, if you want a bespoke, made-to-measure suit or apparel, you can expect to pay top dollar. With the high cost, however, you will always be guaranteed the best materials and the most talented artisans in clothing design.
Europe is known to have many of the top bespoke designers in the world, with France being particularly well-known for fashion. Many European tailors have also opened offices in New York and Los Angeles. This allows them to bring their unique style to the American markets. Sometimes, the styles often have a European and an American flair.
United States
While many of the most prominent bespoke tailors are in New York, others are also on the West Coast. Peter Panos is one of the most well-respected bespoke tailors in the world. In San Francisco since 1978, Panos has made a name for himself as one of the most meticulous tailors in the United States and abroad. His made-to-measure suits are well-known for the quality of the material and his unwavering attention to detail. He is steadfast in his commitment to providing customers with the best bespoke clothing.

Peter Panos Bespoke Tailor is the favorite choice of many Americans looking for the best regarding materials, workmanship, and fit. Panos goes to great lengths to ensure that each suit he creates will stand the test of time and provide the owner with many years of wear. With his many years of experience and personal touch, he can create a made-to-measure suit that you can enjoy for many years!

Tags: best bespoke tailor, best suit tailors


Categorised in: Custom Suit